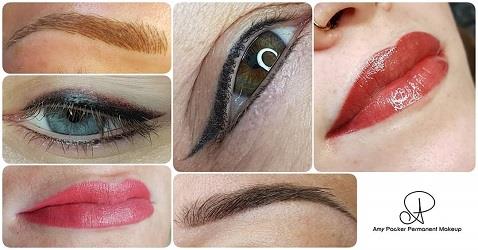 Amy Packer Permanent Make Up
Hi, thank you for choosing me to do your treatments. I have listed below the guidelines I currently have in place for all bookings. Please ensure you read them before booking. Failure to do so could lead to your appointment being canceled/rescheduled and your deposit lost.

My guidelines have recently been updated due to the Covid-19 outbreak to ensure the safety of myself and my clients.

I only allow the client in the treatment room. Please do not bring anyone with you, if you do they will be asked to wait outside or in the car.

If you have had a cough or cold please reschedule your appointment for at least 2 weeks after the cough or cold has gone.

Please do not bring any unnecessary items into the treatment room, just yourself and a drink. Drinks will not be provided at this time.

Please arrive to your appointment on time and wait in your car till your appointment time.

No one under the age of 16 may be in the room while I carry out the procedure.

If you cannot get childcare and need to cancel with less than 48 hours' notice you will lose your booking fee.

If you are on antibiotics or are unwell on the day of the treatment you will need to reschedule, and you will lose your booking fee.

Not everyone is suitable for the Hair stroke procedure so please note other options maybe offered to you.

If you are pregnant or breastfeeding. You must wait 6 months after giving birth &/or 6 months after nursing before you can be treated.

If you suffer from heart conditions or have a pace maker, you will be required to provide a Doctors note. If you fail to bring a Doctors note you will be rescheduled and you will lose your booking fee.

If you suffer with alopecia healed result of hair strokes may be blurry. Trichotillomania (the impulse of pulling out of hair) Due to the higher risk of scarring in the area from the constant pulling out of hair healed results can vary and you may not get optimal results.

Shingles. If you have had shingles on your face you will not be able to have the procedure. Eczema, Psoriasis or Dermatitis in or around the brow area can affect the healed result.

Oily skin is not a good candidate for hair strokes. Another alternative will be recommended.

Haemophilia or Blood Disorder, a Drs note will be needed to perform the procedure. If you do not provide me with the Doctors note, then your appointment will be rescheduled, and you will lose your booking deposit.

Moles in the treatment area. I cannot tattoo over a mole. If there is a mole in your brows, then you will have a gap where the mole is.

Scarring from brow piercings. Pigment may not hold or may migrate under the skin.

If you have wrinkles in your brow the hair strokes will look uneven.

If you suffer with Cold Sores you will be required to take cold sore medication 5 days prior and for 5 days post lip treatment.

Please not taking the medication does not mean that you won't suffer with a breakout after the procedure.

Thyroid disturbances, if you are taking medication we can proceed with the treatment, but results can vary.

If you have taken Accutane (acne medicine) or any other prescribed acne medicines within the last year I cannot treat you.

You must provide a Doctors note with the last date you took the medication on it. If you do not bring the Doctors note you will be rescheduled and you will lose your booking fee.

Auto Immune Disorders can affect pigment retention. You may not be a candidate.

You will be required to list medicines currently taking including all vitamins.

Please DO NOT take any fish oil for 2 weeks before the procedure.

Frequent Exercise will fade your permanent makeup faster than normal. This is due to the sweat production. Salt and saline are use in pigment removal.

Lash serums must be stopped at least 2 months before procedure. And not resumed till at least 2 months after your touch up.

Please not; that if you are going on holiday it is recommended that you wait 4 weeks before having your procedure from when you get back. Or have your treatment 4 weeks before you go away.

Having a tan within 4 weeks of treatment either side will cause the pigment to heal darker than expected.

Retinol use can affect the skin while I tattoo. Please stop using it 4 weeks before your appointment.
Amy Packer Permanent Make Up
Amy

Permanent Makeup Specialist

I have been doing Permanent Makeup since Feb 2013 and in that time I have won two awards for the services I provide and have also placed as a finalist in 3 categories in a highly regarded national Permanent Makeup Awards. I regularly attend advanced training courses and industry conferences to ensure I provide the highest standards in safety and in treatment practice. I am a stickler for perfection so you know that you will get the best looking brows, eyes and lips in Sussex!
Amy Packer Permanent Make Up
Amy Packer Permanent Make Up
Amy Packer Permanent Make Up
10 Petlands Road, RH16 4HH, Haywards Heath
07920032353
Monday

Tuesday

Wednesday

Friday

09:30 - 17:00

09:30 - 14:00

09:30 - 14:00

09:30 - 14:00